Sector 35 is one place that appeals to everyone. Basically when one is confused as what to eat then this place can be a sure shot option. And why not? It offers something for everyone and is a definite answer to all your cravings. From McDonald's to Dominos, Peddlers to Brew Estate and coffee houses, it's a food paradise in Chandigarh!
And here we share with you the best of the lot:
1.Taco Bell:
The atmosphere at Taco Bell is very quirky and casual. The music, the wall hangings, everything there is quite cool. You can try something different from the regular pasta and sandwiches like burritos and quesadillas or maybe a rice bowl. It's a great place to chill with your friends while bingeing on some Mexican food.
Address: SCO 453-454, Sector 35C, Sector 35, Chandigarh
Cuisines: Mexican, Fast Food
Average cost: ₹650 for two people
Not to miss: Watermelon Freeze, Fries, Nachos, Chocolate Shake, Corn Salad, Chicken Burritos, Naked Burrito
2. Oven Fresh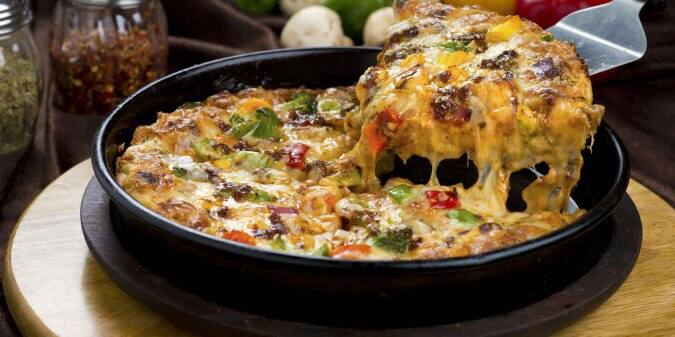 The aroma of coffee and freshly baked bread. That is what defines Oven fresh. Their pasta, sandwiches, and caramel mocha something you must try once. This is one place which has its roots for a long time in the city and is still loved by the people.
Address: SCO 437 & 438, Sector 35 C, Sector 35, Chandigarh
Cuisines: Cafe, Bakery
Average cost: ₹650 for two people
Not to miss: Pizza, Pasta, Croissants, Garlic Bread, Veg Burger, Sizzler Brownie, Apple Pie
3. Tossin pizza:
Tossin's is not your regular pizza place. Their pizzas are one of the most flavorsome you'll have. The veg/non-veg combos offered there is a great value for money. They serve it with two kinds of different dips which takes it to another level. Try it, and you'll definitely taste one of the best pizzas of your life!
Address: Ground Floor, SCO 497-498, Sector 35 C, Sector 35, Chandigarh
Cuisines: Pizza, Italian
Average cost: ₹900 for two people
Not to miss: Pasta, Peri Peri Veg Pizza, Thin Crust Pizza, Mojito, Herb Pizza, Peri Peri Chicken Pizza, Calzone
4. Super Donuts:
Colorful fried goodness! That's how somebody would probably describe a donut. To get the most delectable ones, head straight to Super Donuts. This famous joint the makes some of the best donuts out there, has made quite a mark in the city. It's yet another chilled out place we some colorful and rather cute interiors that make it worth a try!
Address: SCO 446, Sector 35 C, Sector 35, Chandigarh
Cuisines: Burger, Fast Food, Desserts
Cost: ₹600 for two people (approx.)
Not to miss: Donut, Chic Burger, Pasta, Fries, Bagels, Lemonade, Freak Shake
5. Gopal Ji Confectioners:
The only name that probably hits peoples mind when asked about Cheese patty, is Gopal Ji. There cheese corn patty is extremely famous among the young crowd that looks for affordable options. Even more, their menu has more than 30 varieties of patties to go for! Plus, in case it's lunchtime you can also dig into rajma or kadhi chawal.
Address: Shop 8, Sector 35 C, Sector 35, Chandigarh
Cuisines: Fast Food, Chinese
Cost:₹350 for two people (approx.)
Not to miss: Cheese Corn Patty, Paneer Tikka Sandwich, Rajma Chawal, Burgers, Sandwiches, Kadhi Chawal
Related: Chandigarh | Aesthetic Restaurants in Sector 7 That Are True Gourmet Delight