Sector 17, heart of Le Corbusier's city, is fast losing its popularity. Sector 17 was not just Chandigarh's most celebrated shopping and hangout destination, but for places around too.
Why do people seem to have changed their mood?
The growing mall culture in the city is definitely one of the reasons. Elante and North Country Mall (NCM) have snatched the celebrity crown from Sector 17.
But, after all it is sector sataaran we are talking about here! How can any of us let it fade its charm?
Despite the competition, there are ways that can be implemented to bring back people to sector 17. Let's have a look at them.
PROBLEM 1: Not Just the Honking Horns, Hear the Parking woes
The multi-level parking has turned out to be a white elephant. Currently, Sector 17 plaza has 22 parking lots with 5ooo-4000 vehicles entering the sector on daily basis.
Is this sufficient?
The answer is no.
SOLUTION: Proper Space Utilisation
The space near Neelam Cinema can be utilised.

The parking fees can be raised as well to reduce traffic in the sector.

The existing parking lots including the underground ones need to be better managed.

The 6 Taxi stands in front of The Hotel Taj can be shifted and 240 more vehicles can be accommodated there instead.
PROBLEM 2: Has not evolved with time at all
SOLUTION: Turn The Sector into Smart Sector
MC has a plan to turn the Sector into a Smart Sector.

The plan includes converting the space behind Neelam Theatre into an urbanised park.

It also includes having skateboard and pro biking events in the sector.

An organic food court is also planned to attract food lovers to the Plaza.

It also plans public screening of sports events on large screens.

This can definitely bring cheering sports lovers here.

A subway is also proposed to be built between Rose Garden and Plaza so that visitors don't have to face traffic.
PROBLEM 3: Vendors and Vendors all around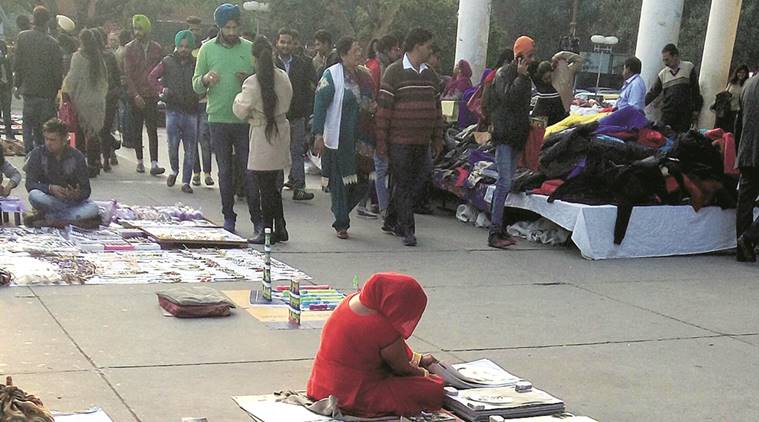 The sector gets around 200 hawkers every weekend. They lead to a fall in business for shops. They also encroach upon a lot of space and its difficult to walk even for a stretch.
SOLUTION: Implementing Street Vendors Act 2014
Street Vendor's Act 2014 needs to implemented to rehabilitate vendors at their designated spots.
PROBLEM 4: Cleanliness
The Sector boasts of 94 Safai Karmcharis, but no safai. The City beautiful attracts visitors for its clean and green image. But, the iconic Sector 17 has lost out when it comes to cleanliness. The visitors are welcomed by garbage in parking spaces, overflowing dustbins and loose electricity wires. These are few eyesores of the Sector. Therefore, Le-Corbusier needs to be remembered and attention needs to be paid towards its cleanliness.
SOLUTION: Taking care of Safai in the Sector
PROBLEM 5: It is Nothing but a Grey Facade
The administration doesn't even allow a single coat of grey paint to the buildings. It's a concrete jungle now.
Solution: Bring New Architectural Designs
New rules need to be written and old revised.

The MC should come up with buildings that have new and unique architectural designs.

Some colour needs to be added to the Sector. It's losing out to Elante when it comes to architectural wonders.

Vertical construction and multi-level buildings should also be constructed here. MC can definitely add a punch to this European-Styled Sector with new designs.
Do share your suggestions too to revive the fading glory of Sector 17.
Image Credits: Google Images