Chandigarh has its own share of Good Samaritans who have stood for the needy when the occasion calls for it. Two such heroes, CTU employees, came to fore to rescue a young girl from a rape bid by an auto-rickshaw driver near Attawa Chowk on wee hours of Sunday.
What Had Happened?
The victim, a 29-year-old fashion designing student from Dehradun, was attending a fashion show at the city hotel along with her friends on Saturday. She left a restaurant in Sector 35 around 1:30am. Having waited for her aunt to pick her up, she started walking towards the Sector 34/35/43/44 roundabout. She boarded an auto, but instead of taking her to her destination in Sector 29, the auto driver (Mukesh) took a detour and stopped the vehicle near the slip road at a short distance from Attawa Chowk.
Here, the CTU employees, bus driver Mohit Thakur and conductor Ravinder Singh, saw a man pulling a woman by her hair on the Sector 42/43 road around 3 am. The girl was screaming for help and ran towards them and told them that the auto driver was trying to rape her. Bus conductor quickly got off the bus and nabbed the auto driver. He then called the police control room, following which the patrolling cops reached there within five minutes and arrested the auto driver.
The accused was in inebriated state and has criminal record
Police have arrested Mukesh of Attawa village, Sector 42. Hailing from Uttarakhand and earning his livelihood through catering, Mukesh was in an inebriated condition and had taken someone else's auto without informing him.
A case under Section 376 (rape) read with 511 (punishment for attempting to commit offences punishable with imprisonment to life) besides Section 354 (assault and criminal force to woman with intent to outrage her modesty) of the Indian Penal Code (IPC) has been registered at the Sector-36 police station.
Good Samaritans honoured by UT DGP
Meanwhile, UT director general of police (DGP) Tajender Singh Luthra met the CTU driver and conductor and awarded them ₹5,000 each along with certificates for rescuing the woman.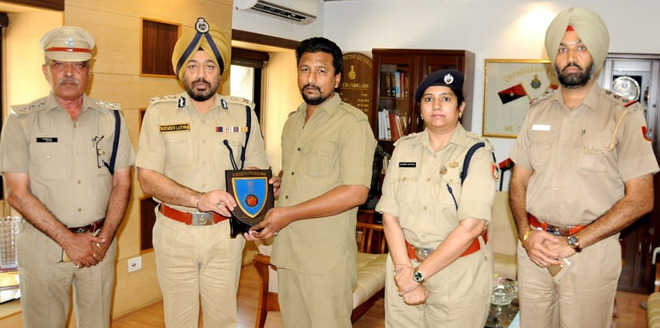 A grim reminder of gang rape
The rape attempt has become a grim reminder of last November's gang rape of a 21-year-old Dehradun woman, who was raped by an auto-rickshaw driver and two other men in a jungle area in Sector 53. Auto driver Mohammad Irfan, who was arrested later, confessed to having raped another 21-year-old woman, who had boarded his three-wheeler, in a forest area in Sector 29 on December 12, 2016. He is undergoing trial in both cases.
Source: HT Chandigarh
Image Credits: Google Images